Autotex Machinery Co., Ltd.--Robots for plastic processing machines, take-out robots, ultrasonic cleaners, mold monitors
---
Founded in 1987, Autotex Machinery Co., Ltd. specializes in developing and manufacturing precision instruments, including robotic arms, mainly for plastic processing machinery. The firm's robots are sought-after by professionals in Japan and Southeast Asia.
Autoex's products include wing type robots, traverse robotic arms, axis servo-motor traverse robots, mold monitors, ultrasonic cleaners and auto spout-silicone, mainly designed to help enhance efficiency and productivity of machinery. The maker's products are seen as intrinsically indispensable for industrial automation, and noted for outstanding functionality and performance.
For example, the traverse-type automatic take-out robot, coded AT-M1600RD, is developed with an independently designed vertical cylinder for prevention of the arm from lowering even if air pressure drops; and employs high-quality linear guideway on its traverse frame to ensure high accuracy of take-out operation, which makes the robot suitable for installation when incorporated with other machinery.
A programmable controller and proximity switch type sensors are built into the robot for exceptional flexibility, while an LCD display for the control panel is designed for user-friendliness. Notable is that the robot is still programmable even during operation, and optioned with an inverter motor or a servo motor.
While looking for agents worldwide to jointly develop overseas markets, Autotex also welcomes OEM and ODM orders, backed by branch offices in China.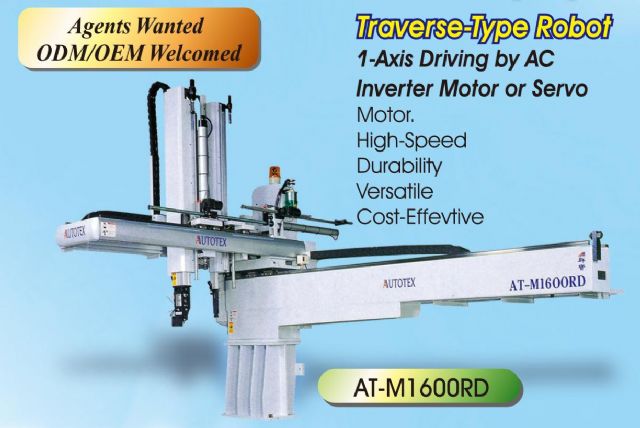 Autotex's AT-M1600RD traverse robot features high speed, durability, versatility and cost efficiency.


Autotex Machinery Co., Ltd.
1F, No. 7, Alley 16, Lane 235, Paochiao Rd., Hsintien Dist., New Taipei City, Taiwan 231
Tel: 886-2-2918-4368; 2915-9660
Fax: 886-2-2918-2654; 2915-5636
Email: autotex@ms18.hinet.net
Website: www.autotex-robot.com